Jeju Auto House
Enjoy your trip with LOTTE rent a car.
Operation Hour 06:00 - 23:00 (Weekday/Weekend, Open year round)
Why Jeju Auto House?
First Largest Premium Rental
Car Auto House

Shuttle Bus Sercive (Every 8mins)

Needed Items for Child's Safety?
Premium car seat Options
Reasons to choose Jeju Auto House
Categories
LOTTE rent a car Jeju Auto House
Early return

In case of early return, the difference is refunded to our customer after the rental fee is recalculated.

Accident Prevention

We provide vehicles with snow chains during winter season free of additional charge.

Accident Handling

24 hours accident and maintenace reception

Immediate dispatch services to the site in case of accident or vehicle breakdown throughout rental period.

Insurance conditions (CDW)

When signed up for Full Exemption Collision Damage Waiver

No Deductibles & No Compensation fee for inoperable vehicle
Including tire and wheel damage (tire puncture repair cost will be refunded if paid on site)

Operation Hour

Opening Hour at 6 am, the earliest on Jeju Island

Customer who has the earliest flight can pick-up and return without having to wait.
Jeju Airport Desk & Shuttle Bus Location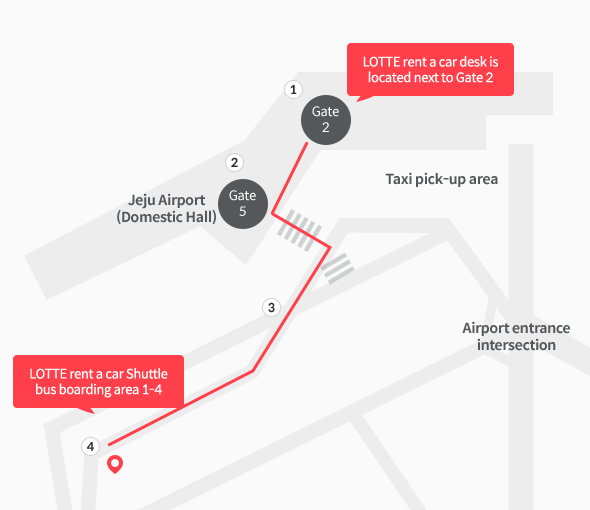 LOTTE rent a car Jeju Airport Desk Location
1

At arrival, please come to our airport desk (GATE2) and provide
the name of which the reservation is booked under to confirm your arrival.

LOTTE rent a car Shuttle Bus Boarding Area

(Shuttle bus operation hours: 07:00 - 23:00)

Customer who needs to arrive at Jeju Airport before 7 am, please contact
Jeju Autho House. (064-751-8000)

2

After exiting through Jeju Airport Gate 5, cross the crosswalk.

3

Follow the signs to the rental car shuttle bus stop and go to the pedestrain
lane to the right.

4

From January 1, 2020, the shuttle bus will park at 1-4 area inside the
parking lot. (Allocating every 8 mins)
Special Services offered at Jeju Auto House
Baggage Delivery Service

Is provided by our concierge available to help you with your baggages.

Various types of Electric cars and
free charging fee

We have a variety of electric vehicles including Tesla Model S.
Experience electric cars without feeling the burdened of charging fees.

Hyundai Solati for Group Trip

If you are on a family or group trip, we recommend you
to not rent 2 small cars but one Hyundai Solati with 15 Seats.

Car Seats & Strollers

We have professionals clean and manage all the car
seats & strollers provide to our customer.
Easily rent and return with us without having to
seek for service anywhere else.
Jeju Auto House Map
Address

92, Yonghae-ro, Jeju-si, Jeju-do, Korea (855 Yongdam -2dong, Jeju-si, Jeju-do)

Operation Hour

06:00 - 23:00 (Weekday/Weekend, Open year round)

Contact number

064-751-8000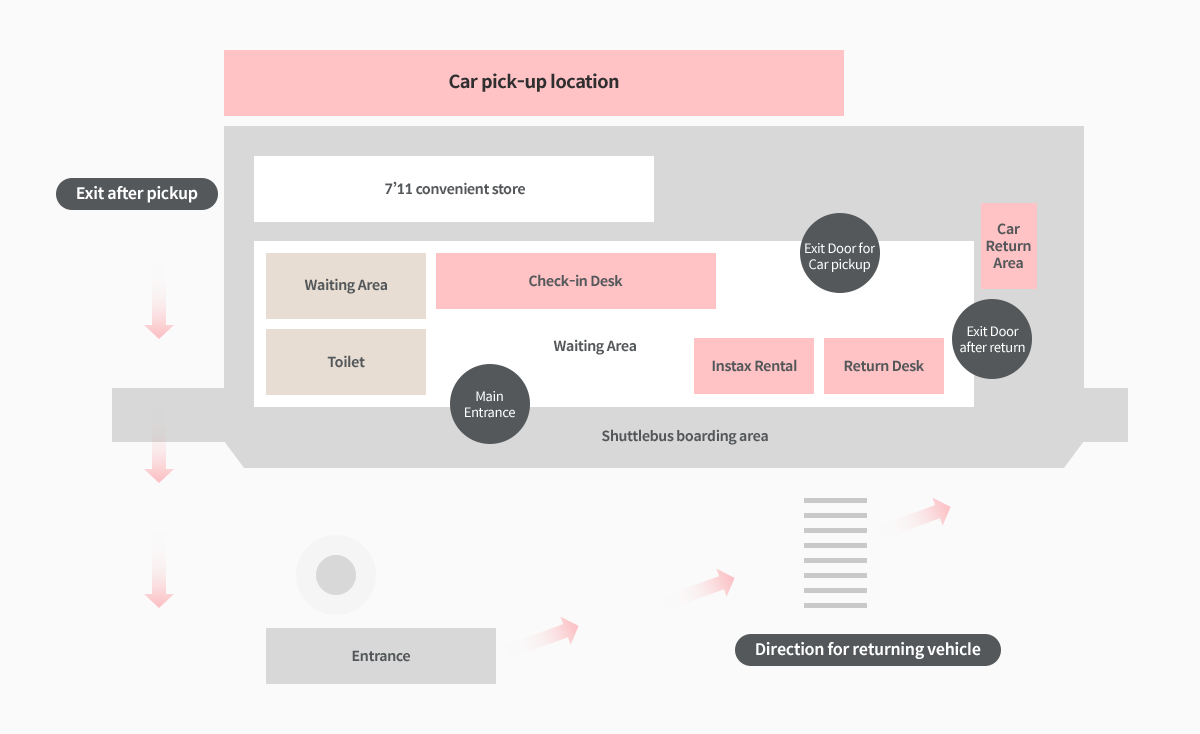 Rental Procedures
01

Jeju Airport (Gate No.2)

Confirm your arrival by checking in at LOTTE rent-a-car desk located near Gate No. 2, Domestic Arrival Hall.

02

Shuttle Bus

Confirm your arrival by checking in at LOTTE rent-a-car desk located near Gate No. 2, Domestic Arrival Hall.

03

Sign the contract

Get off the shuttle bus at LOTTE rent-a-car Jeju Auto House. At the desk, you will be requested to present your identification and requirements on the last step before being asked to sign the rental contract and "Consent to collection and use of credit card information" form.
Renter must have International Driving Permit and Credit Card.

04

Check the Car and Go!

After making your payment, our staff will lead you to the parking lot to check the car.
After all is done, YOU ARE READY TO GO!
Return Procedures
01

Go Back to Jeju Auto House

After arriving at Jeju Auto House, park your car at the return area. Our staff will come to your assistance.

02

Car Inspection

Our staff will quickly check the overall car's condition, fuel level and mileage.
You will be asked to pay additional fee such as fuel cost, if any.

03

Take the Shuttle bus back to the airport

After you are done, you may take the free shuttle bus back to Jeju Airport.